Calko Medical Center — Brooklyn, NY
A YEAR TO BE SMART, STRONG, & STEADFAST
Annual Report with Founders Video & Company Timeline
:00-:05 Image of the outside of a building with a blue overlay. On-screen text reads "The Founders" and below that is the Doc Logo (interlocking puzzle piece with words "Physicians Realty Trust Invest in Better") on the left with the DOC Listed NYSE logo on the right. [Background Music plays throughout.]
:06-:09 Video of three men wearing suits sitting in chairs, smiling and laughing.
:10-:12 A man appears, seated against a dark background. He is speaking.
:13-:19 Man continues speaking. Text appears in the bottom right identifying him as "John Sweet, Jr. Retired EVP, Chief Investment Officer, Co-Founder."
:20-:32 Sweet continues talking.
:33-:36 Cuts to three men wearing suits from earlier, seating against a dark background. We now know John Sweet Jr. is the man in the middle. The man on the far left is speaking.
:37-:38 Video focuses in on man on far left. Text in the bottom right identifies him as Mark Theine, EVP-Asset Management, Co-Founder." He continues speaking.
:39-:58 Video zooms back out to the three men as Theine continues speaking and continues to switch between the wide shot and a focus on him.
:59-1:10 Video cuts to individual shot of the third man who is on the far right in the wider shot. He is wearing a suit against a dark background, speaking. Text in the bottom right appears identifying him as John Thomas, President & CEO, Co-Founder."
1:11-1:17: Video pans out to show both Thomas and Theine as Thomas continues speaking.
1:18-1:34 Video focuses on Thomas as he speaks and alternates between panning out to shots of all three men as he continues talking and then focusing back on him.
1:35-1:42 Closing Slide: Image of the outside of a building that is overlaid in the color blue. A box appears on the screen with logos and text. At the top it says "DOC Doc Listed NYSE" with "2022 Annual Report below that and "Physicians Realty Trust 10 Years" below that with the words "Invest in better." at the bottom.
FOUNDERS VIDEO
Mark Theine
EVP, Asset Management
Co-Founder

John Sweet, Jr.
Retired EVP, Chief Investment Officer
Co-Founder

John T. Thomas
President & Chief Executive Officer
Co-Founder


Physicians Realty Trust has established an award-winning team and portfolio that fuels our Invest in better® mission of helping medical providers, developers, and shareholders realize better health care, better communities, and better returns. And as we approach our 10th anniversary on July 19, 2023, we know we're just getting started.
July 2013
DOC went public with our IPO (Initial Public Offering) on July 19 with four employees and a portfolio of 19 properties valued at $124 million | RSF: 528,048
JULY 2013
Introduced our initial Board of Trustees
DECEMBER 2013
Received the HREI Insights Award for "Best New Ground-Up Development for Post-Acute and Senior Living Facilities" | RSF: 54,418
FEBRUARY 2014 |
KEY ACQUISITION
Acquired the Peachtree Dunwoody Medical Center in Atlanta, GA | RSF: 131,368
February 2015 | KEY ACQUISITION:

MINNESOTA PORTFOLIO
Closed on a $116.3 million Minnesota-based portfolio | RSF: 362,355
JULY 2015
Celebrated the opening of our Milwaukee-based headquarters
AUGUST 2015
Earned an Investment Grade Rating of Baa3 from Moody's Investors Service
DECEMBER 2015
Received the HREI Insights Award for
"Best New MOB" for the Minnetonka Medical Center | RSF: 63,500
APRIL 2016 | KEY ACQUISITION:


CATHOLIC HEALTH INITIATIVES PORTFOLIO – 50 PROPERTIES, 8 STATES
Announced the purchase and sale agreement for what was, at the time, the largest ever recorded sale of health care real estate with Catholic Health Initiatives, now CommonSpirit Health | RSF: 3,102,698
AUGUST 2016
Earned the prestigious AMO® (Accredited Management Organization) designation from the Institute of Real Estate Management (IREM®)
AUGUST 2016
Earned our first "Best Places to Work" and "Milwaukee's Coolest Office" awards from the Milwaukee Business Journal
SEPTEMBER 2016
Hosted the inaugural DOC Management Summit for property management and leasing partners in Milwaukee
JUNE 2017 | KEY ACQUISITION:


FIVE-BUILDING PORTFOLIO
Purchased a five-building portfolio for $577 million from Ascension St. Vincent, Northside Hospital, and Baylor Scott & White Health, including the Baylor Charles A. Sammons Cancer Center | RSF: 1,130,552
December 2017
Received an HREI Insights Award for "Executive of the Year" for our President & CEO, John Thomas, and "Best New MOB" Award for the HealthEast Clinic & Specialty Center (now MHealth Clinic & Specialty Center) | Maplewood, MN | RSF: 147,885
JANUARY 2018
Added Pamela J. Kessler as a member of our Board of Trustees | Co-President, Chief Financial Officer and Secretary, LTC REIT
AUGUST 2018
Earned our first "Top Workplaces" award from the Milwaukee Journal Sentinel
August 2018
Unveiled the company's new mission and vision statements based on team feedback and our core values of C.A.R.E: Collaborate and Communicate; Act with Integrity; Respect the Relationship; and Execute Consistently.
AUGUST 2018
Earned Standard & Poor's Ratings Services (S&P) corporate investment grade credit rating (BBB-)
SEPTEMBER 2018 |
KEY ACQUISITION & AWARD WINNER
Acquired the Northside Medical Midtown MOB in Atlanta, and subsequently earned the HREI Insights Award for "Best New MOB" for the property | RSF: 168,676
JANUARY 2019
Earned our first eight property-level IREM® Certified Sustainable Property (CSP) designations at DOC-owned properties, reinforcing the company's ongoing commitment to expanding its environmental, social, and governance (ESG) practices | RSF: 999,902
2019 KEY AWARDS
Recognized again as a "Milwaukee's Coolest Office" from the Milwaukee Business Journal, earned our second "Top Workplaces" designation from the Milwaukee Journal Sentinel, and received the "Leasing Platform Award for Data Excellence" award from VTS
JANUARY 2020
Earned an additional 10 IREM® CSP designations | RSF: 1,107,003
MARCH 2020
Launched a reimagined DOCREIT.com highlighted by new content dedicated to corporate responsibility and ESG
MAY 2020
Earned inclusion in the S&P MidCap 400
JUNE 2020
Published our inaugural ESG Report, highlighting DOC's commitment to reducing our carbon footprint while improving the patient experience through strategic property upgrades that generate long-term shareholder value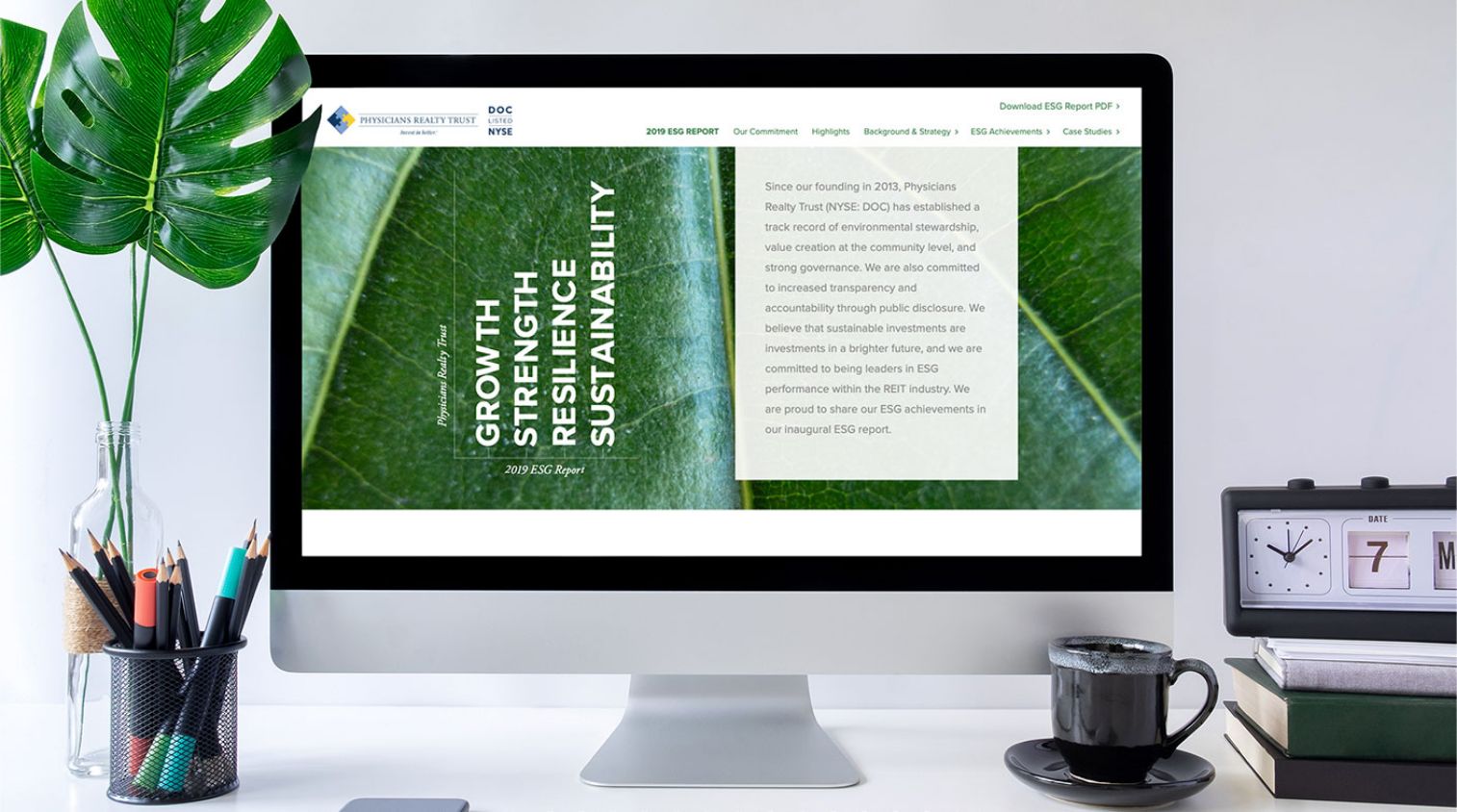 DECEMBER 2020
Weathered the initial impact of the global COVID-19 pandemic with an occupancy of 96%, the highest of all public owners of medical office facilities, while collecting over 99% of all rent and other charges
DECEMBER 2020
Surpassed $5 billion in acquisitions
2020 KEY AWARDS
Earned our third "Top Workplaces" award from the Milwaukee Journal Sentinel, "Green Lease Leader Gold" from the Institute for Market Transformation and U.S. Dept. of Energy Better Buildings Alliance, two international MarCom Gold awards for our Annual Report and ESG Report design, and the international "The Outstanding Building of the Year" (TOBY) Award from Building Owners and Managers Association (BOMA) for the Baylor Charles A. Sammons Cancer Center
JANUARY 2021
Earned an additional 10 IREM® CSP designations | RSF: 805,032
May/July 2021
Earned upgraded credit ratings of BBB from S&P and Baa2 from Moody's Investors Service
September/October 2021 | KEY ACQUISITION:


HONORHEALTH PORTFOLIO
Acquired the Bob Bové Neuroscience Institute in Scottsdale and the HonorHealth Sonoran MOB in Phoenix for $99 million | RSF: 169,250
November 2021
Earned a Green Star designation and a score of 75 in our inaugural submission to the GRESB Real Estate Assessment, outperforming the international average
December 2021 | KEY ACQUISITION:


LANDMARK PORTFOLIO
Completed the purchase of a portfolio from Landmark Healthcare Facilities totaling 14 properties across eight states for $750 million | RSF: 1,434,672
2021 KEY AWARDS
Earned a place on the "Best Places to Work" list by Modern Healthcare, our fourth "Top Workplaces" award from the Milwaukee Journal Sentinel, the IREM® AMO® of the Year Award for Management Excellence, and the prestigious ENERGY STAR® "Partner of the Year" award from the U.S. Environmental Protection Agency and the U.S. Department of Energy
JANUARY 2022
Earned an additional 10 IREM® CSP designations | RSF: 696,253
Earned 16 ENERGY STAR® property certifications (plus 10 retroactive designations for 2021 due to reinstatement of the medical office building program) | RSF: 2,608,075
March 2022
Added Ava E. Lias-Booker, Esq. as a member of our Board of Trustees | Partner, McGuireWoods LLP
September 2022 |
KEY ACQUISITION
Acquired the Calko Medical Center in Brooklyn for $81.5 million | RSF: 85,567
2022 KEY AWARDS
Named for a second year on the "Best Places to Work" list by Modern Healthcare, a fifth consecutive "Top Workplaces" award from the Milwaukee Journal Sentinel, a "Green Lease Leader Platinum" from the Institute for Market Transformation and U.S. Dept. of Energy Better Buildings Alliance, two international MarCom Gold awards for our Annual Report and ESG Report design, and an "Excellence in DEI" award from the CRE Insight Journal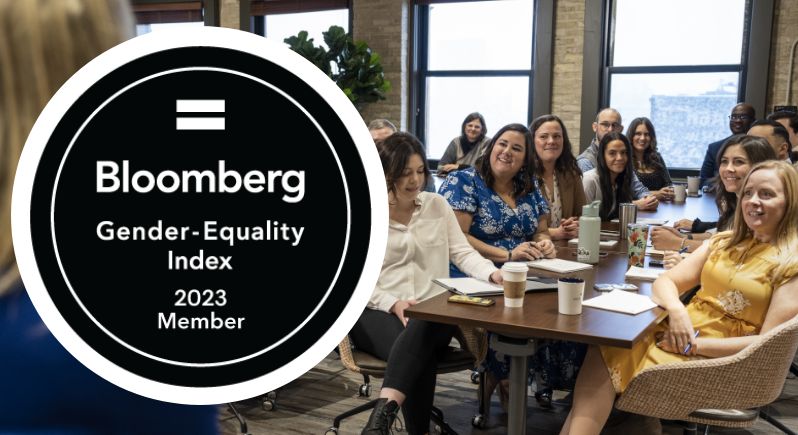 January 2023
Earned inclusion in the global Bloomberg Gender-Equality Index (GEI) which measures equality across female leadership and talent pipeline, equal pay and gender pay parity, inclusive culture, anti-sexual harassment policies, and external brand
July 19, 2023
Celebrating 10 years in business and our renewed commitment to our health care provider partners, our shareholders, our team members, and the communities we serve